Leadership Quote
Leadership Quote are quotes that can propel you to success! It's advisable that you only read a 5 - 12 quotes daily and absorb the meanings to apply in your daily life.
The Leadership Quote in this site will lift your spirits, restore your confidence and ignite your creative energy just when you need it most. The Quotes will challenge you about the way you view yourself and those around you, as well as ways of living and relating to others.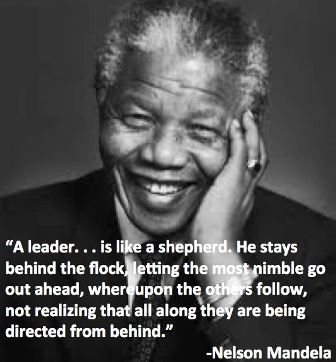 Leadership Quote 


Take a moment and start your day with a moment to read and reflect on Leadership Quote. This may seem as a small step, but as it becomes a habit, you will look back and see how far you have come on your journey towards excellence, success and happiness. 
Leadership Quote; Day 1
- A genuine leader is not a searcher for consensus but a molder of consensus. Martin Luther King, Jr
- Believe in your ability to create the future. That's what leaders do. That is our job. Understand reality but never be imprisoned by it. Reality is a moment in time. The future has not yet been written. It is written by leaders. Mark Miller
- Good leaders make people feel that they're at the very heart of things, not at the periphery. Everyone feels that he or she makes a difference to the success of the organization. When that happens, people feel centered and that gives their work meaning. Warren G. Bennis
- A great person attracts people and knows how to hold them together. Johann Wolfgang Von Goethe
- What you cannot enforce, do not command. Sophocles
- The mediocre teacher tells. The good teacher explains. The superior teacher demonstrates. The great teacher inspires. William Arthur Ward
- Keep your fears to yourself, but share your courage with others. Robert Louis Stevenson
- The quality of a leader is reflected in the standards they set for themselves. Ray Krock
- The more you become aware of and respond to the needs of others, the richer your own life becomes. Mollie Marti
- Leaders grasp nettles. David Ogilvy
- You're only as good as the people you hire. Ray Kroc
- A man who wants to lead the orchestra must turn his back on the crowd. Max Lucado
Leadership Quote 


Leadership Quote; Day 2
- If you want to build a ship, don't drum up the men to gather wood, divide the work, and give orders. Instead, teach them to yearn for the vast and endless sea. Antoine de Saint-Exupery
- The key to successful leadership is influence, not authority. Kenneth H. Blanchard
- Too many leaders value their popularity, protecting it at all cost, degrading their credibility. Noel De Jesus
- I cannot give you a formula for success, but i can give you the formula for failure; try to please everybody. Herbert Bayard Swope
- A leader must lead. Where others see obstacles, he must see opportunities. When others see problems, he must see possibilities. Civilization is not built on a negation but on an affirmation, an affirmation of the bright and promising possibilities that the future holds for those who are enterprising enough to pursue them. David J. Vaughan
- Rank does not confer privilege or give power. It imposes responsibility. Peter F. Drucker
- The challenge of leadership is to be strong but not rude, be kind but not weak, be bold but not a bully, be humble but not timid , be proud but not arrogant, have humor but without folly. Jim Rohn
- A true dreamer is one who knows how to navigate in the dark. John Paul Warren
- Average leaders raise the bar on themselves. Good leaders inspire others to raise their own bar. Orrin Woodward
- When you accept a leadership role, you take on extra responsibility for your actions toward others. Kelley Armstrong
- Give as few orders as possible, his father had told him once long ago. "Once you've given orders on a subject, you must always give orders on that subject." Frank Herbert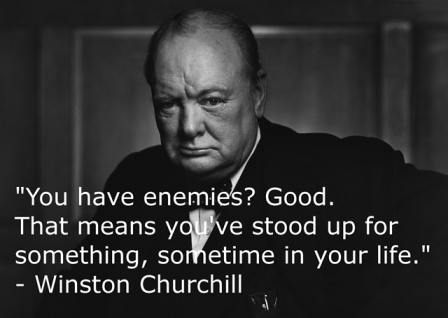 Leadership Quote 


Leadership Quote; Day 3
- Leadership is practiced not so much in words as in attitude and in actions. Harold S. Geneen
- People buy into the leader before they buy into the vision. John Maxwell
- Leadership is unlocking people's potential to become better. Bill Bradley
- There are three secrets to managing. The first secret is having patience. The second is be patient. And the third most important secret is patience. Chuck Tanner
- Management is doing things right. Leadership is doing the right things. Peter F. Drucker
- The Power to lead is the power to mislead, and the power to mislead is the power to destroy. Thomas S. Monson
- The best executive is the one who has sense enough to pick good men to do what he wants done, and self-restraint to keep from meddling with them while they do it. Theodore Roosevelt
- The first key to leadership was self-control, particularly the mastery of pride, which was something more difficult." He explained "to subdue than a wild lion and anger, which was more difficult to defeat than the greatest wrestler. He warned them that, "if you can't swallow your pride, you can't lead. Jack Weatherford
- It's not about you. It's about them. Clint Eastwood
- Leaders are people who believe so passionately that they can seduce other people into sharing their dream. Warren G. Bennis
- The condition of leadership adds new degrees of solitariness to the basic solitude of mankind. Every order that we issue increases the extent to which we are alone, and every show of defense which is extended to us separates us from our fellows. Thornton Wilder
-Successful leaders see the opportunities in every difficulty rather than the difficulty in every opportunity. Reed Markham
Leadership Quote 


Leadership Quote; Day 4
- Leadership is diving for a loose ball, getting the crowd involved, getting the crowd involved, and getting other players involved. It's being able to take it as well as dish it out. That's the only way you're going to get respect from the players. Larry bird
- Men make history and not the other way around. In periods where there is no leadership, society stands still. Progress occurs when courageous, skillful leaders seize the opportunity to change things for the better. Harry S. Truman
- Management is efficiency in climbing the ladder of success. Leadership determines whether the ladder is leaning against the right wall. Stephen Covey
- Leadership is a matter of having people look at you and gain confidence, seeing how you react. If you're in control, they're in control. Tom Landry
- The secret to success is good leadership, and good leadership is all about making the lives of your team members or workers better. Tony Dungy
- One of the tests of leadership is the ability to recognize a problem before it becomes an emergency. Arnold H. Glasow
- Our chief want is someone who will inspire us to be what we know we could be. Ralph Waldo Emerson
- Truly powerful people have great humility. They do not try to impress, they do not try to be influential. They simply are. People are magnetically drawn to them. They are most often very silent and focused, aware of their core selves. They never persuade, nor do they use manipulation or aggressiveness to get their way. They listen. If there is anything they can offer to assist you, they offer it If not, they are silent. Sanaya Roman
- A leader is like a shepherd. He stays behind the flock, letting the most nimble go out ahead, whereupon the others follow, not realizing that all along they are being directed from behind. Nelson Mandela
Leadership Quote 


Leadership Quote; Day 5
- People work harder, longer, and more creatively if they are motivated by the intrinsic pleasure of their work. Managers must do everything they can to make the value of jobs obvious and the joy in them accessible. Robert Watson
- Leadership is not so much about technique and methods as it is about opening the heart. Leadership is about inspiration of oneself and of others. Great leadership is about human experiences, not processes. Leadership is not a formula or a program. It is a human activity that comes from the heart and considers the hearts of others. It is an attitude, not a routine. Lance Secretan
- Keep away from people who try to belittle your ambitions. Small people always do that, but the really great make you feel that you too can become great. Mark Twain
- Do not follow where the path may lead. Go instead where there is no path, and leave a trail. Ralph Waldo Emerson
- A leader is one who knows the way, goes the way, and shows the way. John C. Maxwell
- Management is about arranging and telling. Leadership is about nurturing and enhancing. Tom peters
- Leadership is a potent combination of strategy and character. But if you must be without one, be without the strategy. Norman Schwarzkopf
- If an incompetent chieftain is removed, seldom do we appoint his highest ranking subordinate to his place. Attila the Hun
- A good objective of leadership is to help those who are doing poorly to do well, and to help those who are doing well to do even better. Jim rohn
- Leadership is solving problems. The day soldiers stop bringing you their problems is the day you have stopped leading them. They have either lost confidence that you can help or concluded you do not care. Either case is a failure of leadership. Colin Powell
- When you can't make them see the light, make them feel the heat. Ronald Reagan
- Good leadership consists of showing average people how to do work of superior people. John D. Rockefeller
Leadership Quote 


Leadership Quote; Day 6
- Leadership is a privilege to better the lives of others. It is not an opportunity to satisfy personal greed. Mwai Kibaki
- Whoever is under a man's power is under his protection too. David J. Schwartz
- If you seek honor and respect you will not find it, for a leader is powerless to elevate himself. It is only when you serve others without regard for self will honor, respect, and lasting success be found. Stevenson Willis
- Not the cry, but the flight of a wild duck, leads the flock to fly and follow. Chinese proverb
- If your actions inspire others to dream more, learn more, do more, and become more, you are a leader. John Quincy Adams
- Weigh whatever you are about to say. What will it do to your hearer; encouragement, edification, disappointment or fear? What will it do to your life; glorify, edify, beautify, or weigh you down? Speak well and things will go well. Jaachynma N.E. Agu
- The function of leadership is to produce more leaders, not more followers. Ralph Nader.
- To handle yourself, use your head. To handle others, use your heart. Eleanor Roosevelt
- Leaders think and talk about the solutions. Followers think and talk about the problems. Brian Tracy
- The first key to leadership is self-control. Jack Weatherford
- Accountants are in the past,  managers are in the present, and leaders are in the future. Paul Orfalea
- There go the people. I must follow them for i am their leader. Alexandre Ledru Rollin
Leadership Quote 


Leadership Quote; Day 7
- Regard your soldiers as your children and they will follow you into the deepest valleys. Look upon them as your own beloved sons, and they will stand by you even unto death. Sun Tzu
- Managers maintain an efficient status quo while leaders attack the status quo to create something new. Orrin Woodward
- True greatness, true leadership, is achieved no by reducing men to one's service but in giving oneself in selfless service to them. J oswald Sanders
- You cease to be a leader when you manipulate with your ego instead of convincing by your inspiration. Israelmore Ayivor
- The world is full of stupid people. That's why we have rules. But with enough intelligence, a person can be above the rules. She can makes rules. Daniel Nayeri
- Leaders are not, as we are often led to think, people who go along with huge crowds following them. Leaders are people who go their own way without caring, or even looking to see, whether anyone is following them. Leadership qualities are not the qualities that enable people to attract followers, but those that enable them to do without them. They include, at the very least, courage, endurance, patience, humor, flexibility, resourcefulness, stubbornness, a keen sense of reality and the ability to keep a cool and clear head, even when things are going badly. True leaders, in short, do not make people into followers, but into other leaders. John Holt
- The greatest leader is not necessarily the one who does the greatest things. He is the one that gets the people to do the greatest things. Ronald Reagan
- I cannot trust a man to control others who cannot control himself. Robert E Lee
- A leader takes people where they want to go. A great leader takes people where they don't necessarily want to go, but ought to be. Rosalynn Carter
- No man will make a great leader who wants to do it all himself or get all the credit for doing it. Andrew Carnegie
- Outstanding leaders go out of their way to boost the self-esteem of their personnel. If people believe in themselves, it's amazing what they can accomplish. Sam Walton
Back to Home Page.....
Comment and Like This Page?